On this page you can find list of all events, conferences, seminars, presentations and public lectures related to SPARCS Lab operation and intended for research, collaboration, HQP training, education and public awareness purposes.

Conference and Workshop organization:

ICCSA 2005 International Conference on Computational Science and Its Applications 2005, Founded and Co-Chaired since 2003 by Prof. M. Gavrilova, Singapore, May 2005 - upcoming!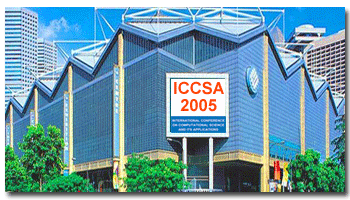 5th International Workshop on Computational Geometry and Applications CGA'05, Singapore, May 2005, Founded and Chaired since 2001 by Prof. M. Gavrilova
2nd International Workshop on Spatial Analysis and GIS: Local or Global?, Founded in 2004 and Co-Chaired by Prof. S. Bertazzon
Invited Lectures and Presentations:
1. Invited Visit and Invited Lecture, M. Gavrilova, "Adaptive Mesh Generation for Real-Time Terrain Modeling," University of Tokyo, Japan, September 2004
2. Invited Visit and Invited lecture, M. Gavrilova, "ESL Library for Exact Computation of Geometric Primitives", International Center for Voronoi Diagram Research, Hanyang University, September 2004
3. Invited Presentation during International GIS Day, "Spatial Analysis Research in SPARCS Lab", S. Bertazzon, M. Gavrilova, November 17th, 2004
5. Invited presentation and Panel Discussion "Modern Challenges and Computer Security," M. Gavrilova, INDIN 2003 Banff August 2003
Seminars and Presentations for Graduate and Undergraduate Students:
Weekly seminars for graduate and undergraduate students as part of SPARCS operation
Presentation: "Multivariate Spatial Analysis for Studying of Heart Disease Data ", Faculty of Medicine, September 2004, delivered by S. Bertazzon
Facilitator, a round-table discussion between Computer Science and Department of Geography Graduate Students on the topic of computational methods in GIS, March 2003"Perception of Role of Computational Science in GIS"
GEOIDE Scientific Director SPARCS Lab visit and demo, February 1st, 2005
Demo and Tour of SPARCS Lab for CPSC students, April 2005
Presentation, Demo and Lab tour during SPARCS Lab Open House, April 2005

Presentation and Demo for Graduate Recruitment Afternoon, 2004.
Organization of a Lab tour for Graduate Students enrolled in GIS Graduate Course to CAVE (Medical Research Building), February 2003.
Dean's Office Showcase "Computer Science and GIS", January 2005
Community service and outreach:
SPARCS lab profile on Calgary TV, SHAW Channel, April 28th, 2005
Development of further awareness of the Calgary community of research conducted in the lab through media, web site, presentations, and special event participation, such as recent International GIS Day.

Organization of the Computational Science Community (2005, in progress)
Public presentation for City of Calgary on the outcomes of the health project
Service on GEOIDE Committies
Establishment of the International Journal "Transactions on Computational Science", Springer-Verlag, currently being established (2005), with special focus on topological approaches in spatial GIS
Interview for Gazette and On Campus with specific emphasis on community benefit from the research in SPARCS LAb
Participation in SCIBERMENTOR program for involving high school kids into research